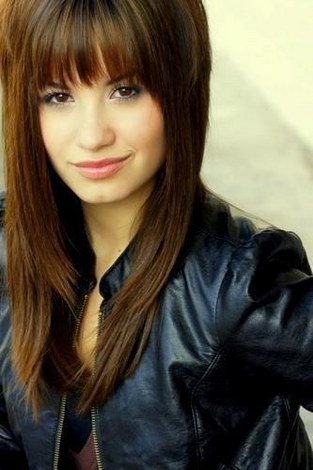 DEMI LOVATO BIOGRAPHY
Demetria Devonne Lovato was born on August 20, 1992 in Dallas, Texas to Deana Lovato (a former country singer and Dallas Cowboy Cheerleader (1983-1984)) and Patrick Lovato [divorced]. Her stepfather's name is Eddie DeLaGarza. She is the middle child. She has an older sister (by 5 years) named Dallas Lovato (also an actress and singer) and a younger half-sister named Madison DeLaGarza (who is 10 years younger than her).
Demi began acting and singing at an early age. At the tender age of six (2003), she made her first break into TV as Angela on the Barney and Friends series. [Fast fact: One of the other actresses on Barney was Selena Gomez, who became her good friend.] Over the next few years she continued to pursue her love of acting and singing and appeared in a number of productions and contests throughout the state of Texas.
In 2006, she tried to make her way into more mainstream television. She began to receive roles in episodes for series such as Prison Break, Split Ends and Just Jordan. In 2007, she received her first regular role in the shorts on Disney Channel for As the Bell Rings (playing Charlotte).
Her big break came in 2008 in the role of Mitchie Torres in the smash made-for-TV Disney movie Camp Rock co-starring the Jonas Brothers.
Demi released her debut album, Don't Forget in September 2008.
After Camp Rock, she did not slow down. She is touring with the Jonas Brothers in their 2008 Tour, entitled "Burning Up Tour" (before that, she toured solo on the "Demi Live! Warm Up Tour) She is filming another Disney Channel Original movie entitled Princess Protection Program and in-between everything, she is recording her self-titled debut album. She is also slated to star in her own TV series, Welcome to Mollyword, playing the role of Molly [Note: Disney has announced a Camp Rock 2 to air in 2009]
Skills = sings, acts, plays the drums, piano and guitar
Personal info: hair color = Brown, eye color = brownhttp://www.aceshowbiz.com/images/events/JTM-037045.jpghttp://images.starpulse.com/Photos/Previews/Demi-Lovato-d03.jpg
http://images2.fanpop.com/images/photos/3300000/Demi-Lovato-demi-lovato-3304987-1024-768.jpg
http://tommy2.net/interviews/demilovato/demilovato.jpg